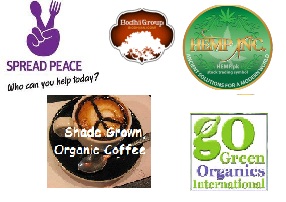 Spread Peace Radio is powered by the generous donations of people like you and businesses wanting to make a difference in the world. We would like to thank these businesses for their support.
We'd like to thank our current sponsors. They have been more than generous. We now only need 3 more sponsors to go live with our show in five communities!!
The minimum donation to be a sponsor is $275 and includes an interview on the air about your company and advertising on every show, in all five cities. If you have a business or are interested in a corporate sponsorship please message us. 
Our listeners and supporters make a real effort to frequent businesses that support our show and the things they care about. Listeners of talk radio shows are three times more likely to spend money with advertisers they hear on the shows they like.
Please join us in celebrating these sponsors that make our show possible and help keep Spread Peace Radio on the air. 
Sponsors
Green Organics International
Sponsor and makes a donation to Spread Peace Radio whenever you shop online using this link for Spread Peace Radio. 
Hemp, Inc.
Sponsor and donated one million shares of stock to Spread Peace.
Spread Peace USA
Sponsor and our parent organization. Spread Peace USA is a non profit helping those in need.
Peace Coffee
Sponsor and will be offering a discount to listeners on shade grown, organic coffee and organic teas. 
The Bodhi Group
Sponsor and online community for green and organic living
Please show your support by frequenting their business or web site.