Entertainment Book 2016!
Please consider helping raise funds for SpreadPeace.org and The Peach Church by purchasing the new Entertainment 2016 edition. The new 2016 Entertainment book will be available to purchase 7-27-15.
The Entertainment Book is  full of hundreds of 50% off and 2 for 1 offers for restaurants, theaters, sports, travel, and much more in your area.   You can order your copy n the Entertainment Book at The Peace Church or online    We are locally selling the book at a special price of $30 and you can easily save more than that the first few times you use it.
The book comes with a unique code to download a free nationwide mobile app, essentially giving you access to all 118 Entertainment books right at your fingertips. Wherever you are in your hometown or the country, simply tap on the app and it will show you the nearest deal, then show your phone and redeem on the spot!  Perfect for business travel and family vacations!
You will also have the option to purchase the " mobile- only" app.  This will be available for purchase as well.  Savings is even easier with coupons that you can redeem directly from your iPad, iPhone, or iPod touch.
You can purchase an Entertainment Book for ANY CITY  in the United States! By using our link below you can purchase your Entertainment book, enjoy free shipping direct to your home and help support SpreadPeace.org, our Causes and the Charities we support!
Please feel free to spread the savings and share this page with everyone you know, anywhere in the country! Offers are good through the end of December 2016 and they make great gifts as well!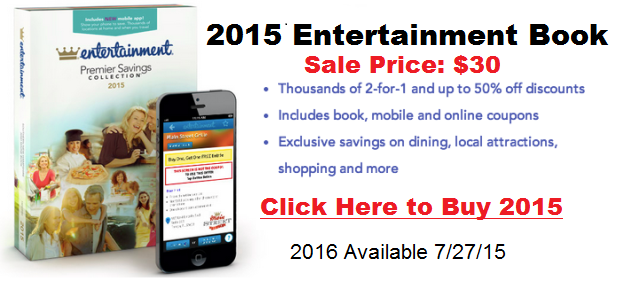 Be first to enjoy the new 2016 Entertainment Book!
Subscribe to our newsletter below and we'll let you know.
I saved over $75 the very first day my Entertainment Book arrived and knew it was the perfect fundraiser for SpreadPeace.org. I love opening the Entertainment App and watching all the coupons and offers pop up all around me.
Thanks for supporting SpreadPeace.org and our campaigns. You Rock!
Chris Tinney
This book is the best! I save on lots of things I buy already and save money! Plus I'm helping Spread Peace USA and all their causes. Whats not to love!
Martin Vert